EUROCORR 2005
European Corrosion Congress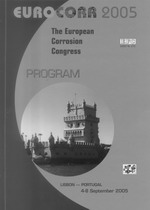 The European Corrosion Congress was held in Lisbon, Portugal, September 4-8, 2005. 2005 is a landmark year in the history of this Congress, since it coincides with the Golden Anniversary of the European Federation of Corrosion (EFC).
Similarly to the year 1999 in Aachen (Germany), 2000 in London, 2001 in Riva del Garda (Italy), 2002 in Granada (Spain), 2003 in Budapest, 2004 in Nice (France), this year also has seen the active participation Cortec Corporation in the Congress Technical Exhibition.
Over 700 participants came form all over the world. Eighteen different sessions as well as 12 workshps and posters sessions covered a vast number of multidisciplinary topics under the general subject of "Corrosion Control for Sustainable Development". Sessions addressed all possible corrosion related aspects ranging from Nuclear plants, marine, automotive, aeronautical industry, MIC (microbiological induced corrosion), coatings, oil& gas production to heritage preservation.
The increasing importance and interest was given to the concrete preservation and repair with two days dedicated to this topic.
Cortec Corporation, the sole Company presenting the Corrosion Inhibitors was attracting numerous visitors from Europe, Middle East, and Latin America.
Cortec VpCI 415 cleaner was featured in an interesting aeronautical application evaluated by the University of Northern California and presented by Dr. B.Bavarian.
As to the concrete application, Joseph Curran , ASRC Aerospace, NASA Corrosion Technology Lab at Kennedy Space Center (Florida) presented a Liquid-Applied Coating, new versatile concept in cathodic protection, developed and patented by NASA and licensed by Cortec called "Galvacorr". Several enquiries were already generated.
The EUROCORR is hosted every year by a different European country. Next Congresses will be held: Maastricht - Holland - September 25-28, 2006 Freiburg - Germany - September 9-13, 2007